" After trying every store-shelf and TV acne product I was about ready to give up.

Then I saw an ad for Coresa Acne Products in a local pennysaver, and decided to give them a shot.

Glad I did.

After just a week my moderate acne case has all but disappeared. "

- Mike Z.
New York, NY

CLEARED BY CORESA



MORE HAPPY CUSTOMERS SPEAK!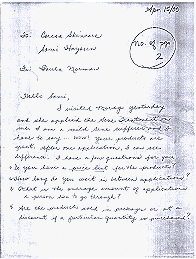 To: Coresa Skincare
Fr: Paula Norman
Hello Sami,
I visited Morag yesterday and she applied the Acne Treatment on me. I am a mild Acne sufferer and I have to say... WOW! Your products are great. After one application, I can see a difference.
...
Kind Regards,
Paula Norman

Dear Sam,

After trying many different products I was about to give up on my problematic skin until I used the Coresa System.

It is unlike anything else on the Market, and I loved the results.

My favorite is the Rejuvenating Mask. I can actually feel the Mask working while it's on my face, something that I had never experienced with other products.

I will recommend the Coresa System to all my Clients.

Thank you!

Melissa Vanderploeg
Cosmetologist
Salon Adair & Spa
Columbia Missouri
" Hello, my daughter is using your products and we are very pleased about the results. we would like to order de kit for mild acne, before we order we would like to know how much lotion etc is in a bottle, so we know how much we have to order. We hope to hear from you soon ."
carol van pomeren, Holland
" CORESA is the best "
Mauricio V., Verona, Italy
" I can't believe how well your products worked for my son. It's as if he never had a problem."
Dianne B., Henderson, NV
" I've traveled all over the world to find someone or something to help me with my skin problem; CORESA is the only thing that helped. I don't know what I would do if you weren't around."
David N., Seattle, WA.
Dear Sirs,

I live in Holland. My dermatologist has used Coresa products on me, now I am not in therapy anymore. Where can I buy Coresa products in Holland? I would be grateful if you could help me.
Thanks in advance.
Irene, Holland
"At first I thought these products were too strong. I felt some heat and really felt it working on my face. I wanted to return them, but I had a 30-day money back guarantee, so I tried them again. I'm glad I did. After the second application I saw an amazing improvement… Enclosed is a check for another kit for a friend. Thank you very much."
James F., Anchorage, AK.
" I used prescribed medication without any results before I tried your products. I was surprised, your products really do work."
Michael T., Las Vegas, NV
"This is amazing stuff. I've ordered other products from the Net and from T.V... They didn't do anything for me. When I saw that CORESA does not have an automatic reordering program, I thought this must work pretty fast. Amazing."
Gerard B., Staten Island, NY
" Wow, your products are great "…
Frank N. Wilmington, DE.
" There is a lot of product in Holland for acne. Coresa is the only one that worked for me."
Ingrid Z.
Eindhoven, The Netherlands
" Boy, I wish I had found you earlier, I wouldn't have spent all this time and money for nothing. Thank you for giving me my life back."
Esther G. - Long Island NY.
" I've had acne for eight years. I tried over the counter one step solutions, went to dermatologists and used different medications and now I have Acne scars. I didn't know what your products could do for me. But I knew Salicylic Acid could be effective for acne. I ordered your products and after a few weeks I saw the result that I hoped for eight years ago (without the dangers of Benzoyl Peroxide).
Thank you! "
Rebecca H. Detroit, MI.